Hello, all. This is my first post after having read up a lot on this forum. I've been a big fan of the Mad Max movies for the last 6 or 7 years, but I never really did any modelling projects based on them. I do love the aesthetics of tough, weather beaten machines though, so the MM universe fits right into my interests.
I collect mostly diecast race cars and muscle cars. My preferred scale for muscle cars is 1/18th. I bought the 1/18th AutoArt Interceptor and within a week I decided to weather it. I wanted some more MM cars to display it with, so I've made a few customs from various 1/18 diecasts.
Here are some pictures of cars I've done so far, including some explanation of how I did each one. There will be more to come.
Here's the stuff I did to my AutoArt 1/18th Interceptor. Just basic painted weathering to match the on-screen car, which included painting the gas cans green. I also scratchbuilt some little odds and ends to throw inside, including a toolbox, tarp, and a rope. The cooking pot came from an old Star Wars diorama kit.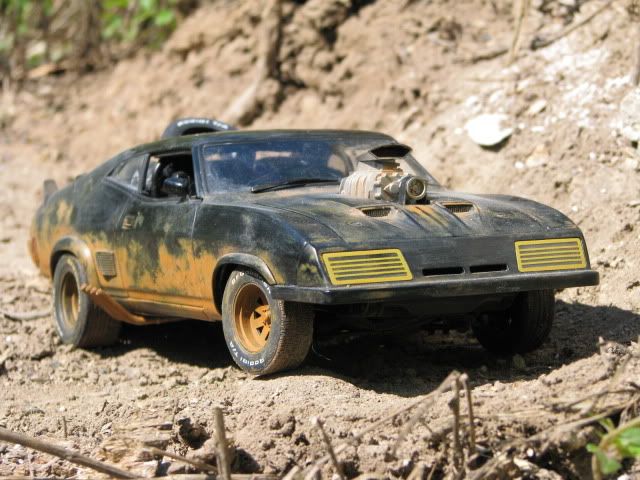 More shots of the weathering, these ones I setup in my backyard.
My first real project car was based on a 1/18th Ertl 1969 GTO Judge kit, I planned to turn it into a marauder car. Working from a kit was nice, since usually I have to butcher a lot of stuff to get a pre-made diecast apart to properly customise it.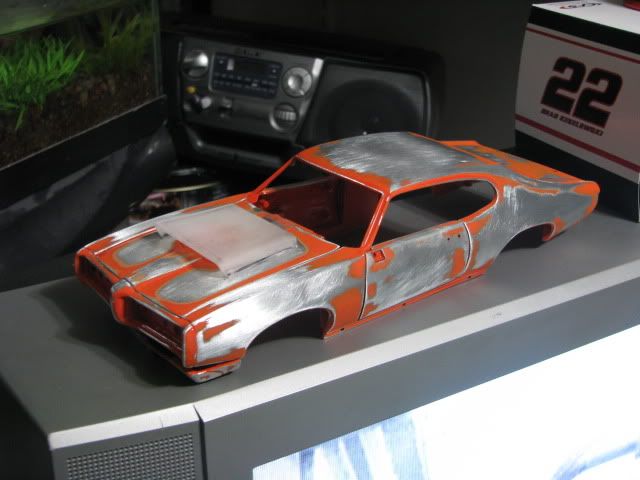 The first thing I did was sand down the carousel red it was painted in and add a hoodscoop, which I made out of a 1/64th car display case that I cut down.
After that the car was primed and made ready for paint. Somewhere along the line I decided I didn't like the wheels and wanted something more rugged looking. I got a set of GMP Cragar Soft 8 steel wheels that look much tougher in my opinion, more befitting of a MM car.
I ended up painting it similar to the Force 10 chargers in the Road Warrior dull gray with a red stripe, tweaked to better fit the bodystyle. It also got a pair of strobes that were 1/24 "bubblegum" police lights on the roof and airhorns, made from lionel train parts. I really wasn't going for a specific car here, so it's by no means intended to be movie accurate. I just wanted a U.S. muscle car that looked like it could have fit in with the other bad guy cars in Humungus' armada. I use Rustoleum and Krylon primers on metal cars, painted with Testors acrylics top-coated in Testors clear Lacquers.
After the body was completed, the interior, chassis and motor had to be put together. I detailed the Ram Air 455 with extra wiring and plumbing that wasn't included on the kit.
For the interior, I sadly decided not to attempt to convert to RHD. I did, however add a rollcage that I scratchbuilt from Evergreen styrene tubing and brass wire.
After final assembly I added some more details, including a resin 1/18 police pushbar and some extra headlights, that came off an Ertl '34 Ford. After that I weathered the whole thing.
My next project is a still in-progress Red Bat XA. That one I made out of a SunStar 1/18 1971 Mustang Mach 1. Here is a picture of the victim...more to come soon.